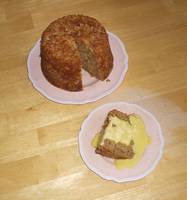 Umm, cardamom, allspice and nutmeg--all say apples to me. In accepting Zarah's challenge of Spices for Sugar High Friday and after reading Pascale's post on steamed puddings I decided to try a steamed apple pudding, redolent of spices, butter and molasses.
In Diderot's Encyclopédie many types of cookware are displayed. One is the charlotte mold with lid--this is the ideal baking pan to use for steaming. I butter the inside of my charlotte pan and shake sugar on it instead of flour--this gives a more pleasing brown to the outside of the steamed pudding--which sometimes can be somewhat peaked.
Pudding ingredients: cut up three pealed apples very finely and stir them into 1/3 cup melted butter, 3/4 cup molasses (I actually used a mixture of sorghum and molasses) and 1 beaten egg. Into this stir 2 1/2 cups flour, 1/4 teas salt, 1 teas cinnamon, 1/4 teas cardamom, 1/4 teas nutmeg, 1/4 teas allspice and 1 1/2 teas soda (not available to 18thC cooks). Spoon this mixture into the sugared charlotte mold and cut a piece of buttered paper to fit over the top of the pudding.
Now, place the lid on the mold and tie the cover to the pan through and around the handles.
Set a trivet into the larger steamer kettle
and lower your mold down onto the trivet. Pour boiling water into the steamer halfway up the charlotte mold sides;
place the lid on the steamer and set onto the fire. Bank coals and ashes around and keep a supply of boiling water handy in your teakettle to replenish the water level as needed. Boil for 1 1/2 hours. Remove the mold from the steamer and let sit for a few minutes. Take off the lid and peel away the paper.
Run a knife around the edge of the mold and invert onto a serving plate. Serve with a sabayon sauce.
Sabayon: 1 egg yolk, 1/4 cup sugar, 1/4 cup Marsala (I used Vin Noix [walnut wine]) Whip over a boiling water bath (Bain Marie) until thick. Serve over pudding slices.
Pudding recipe adapted from Ladies Home Journal
Dessert Cookbook
, edited by Carol Truax, Doubleday, 1964, p. 152.