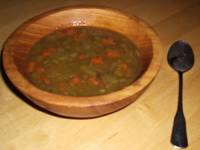 The geese are flying south from the lakeshore, and a chill wind is blowing. It's a perfect time for some hot soup. The quintessential soup of Nouvelle France is dried pea--whole yellow and green or split pea. Four recipes are found for "pease" potage in La Varenne's
Le Cuisinier François
, 1651, using both fresh and dried peas.
Peter Kalm's Travels
, 1753, describes that "often the third course [food which the better classes of Frenchmen ate] at dinner [our noon meal] consisted of green peas." He goes on to say French soldier's rations are plenty of peas and that it was the "general custom to allow the soldiers a plot of ground for kitchen gardens. At
Fort Frontenac
you can see the soldiers' kitchen gardens,
potagers
, laid out.
Georgeanne Brennan
says, "the potager has for centuries produced meals that are seasonally fresh." Here you can see a
restored potager
, for which habitantes and soldiers alike were justly proud from the fortress of
Louisbourg
. Peas did especially well in the cool, moist weather of Novelle France and early plantings normally produced large yields. As soon as the habitante could scratch in the soil, in went the peas. The peas were allowed to dry in the shell and then were harvested and put into storage.
To begin my soup I start by sautéing a
mirepoix
of 1 onion, 2 carrots and 1 rib of celery in butter or a little chicken fat. At this time I also add to the sauté one bay leaf and 1 teaspoon caraway seed which I've bruised in a
mortar
; this helps to release more flavor. When the onion has caramelized to golden brown, I add a little boiling chicken stock to the
poêlon
[French frying pan] and stir to deglaze the pan. Then I scrape it all into a
marmite
with
two handles
and add two cups of dried peas and the rest of 7 cups of boiling chicken broth.
I place the cover on the marmite and put it into the ashes and mound some coals and ashes around the outside of the pot. After it begins to bubble again, I taste for seasoning and add salt and pepper to taste. I can raise or lower the cooking temperature of the marmite by adding or removing ashes and coals from around its base. It also helps to pile coals against the walls of the fireplace and heat the stone prior to placing the marmite next to the stone. The reflected heat can help keep the pot simmering for hours. When the soup is done, I serve it with fresh bread and a dollop of crème fraîche. Bon appétit!